Disclaimer
I am not a lawyer!
I do not provide legal advice!
The OpenJDK Project
Open Source implementation of Java SE
Reference implementation for Java SE 7, 8, 9, ..
Licensed under GPLv2 (with Classpath exception)
Collaboration space for different implementers:

RedHat, SAP, IBM, Google, Intel, Twitter, Azul

Playground for Java SE related projects:

Coin, InvokeDynamic, Lambda, Nashorn, ...
Jigsaw, Graal, Panama, Value Types, ...

Does not provide binaries - just source code!
The OpenJDK License
HotSpot files (i.e. everything under hotspot/ except JNI headers)

Class Library (i.e. everything under jdk/)
OpenJDK Distributions/Binaries
Every Linux distribution comes with its own OpenJDK packages:
"Closed" OpenJDK Distribuitions
Google internally uses a custom OpenJDK build
Twitter internally uses a custom OpenJDK build

Contributions to the OpenJDK (mostly GC fixes)

Loongson/Mips64: has recently published a jdk8 repository
Distribuitions using the OpenJDK class library
Possible because it is licensed under GPLv2 plus Classpath exception.
IKVM.NET: Java implementation for Mono/.NET
JamVM: a small, interpreter-only Java VM

Supported as alternative JDK on many Linux distros (Debian, Ubuntu, Fedora)

Eclipse OMR: open source version of IBM's J9
The Oracle JRE/JDK
Oracle's Java SE implementation
Based on OpenJDK sources
Plus Oracle specific/proprietary extensions and addons

Different font renderer (T2K vs. FreeType)
FlightRecorder & MissionControl
Browser plugin (now deprecated)
JavaFX

Licensed under the Oracle Binary Code License Agreement for Java SE
Oracle Java SE License
Contains "Field of use restriction"
Only for "General Purpose Desktop Computers and Servers"
Doesn't cover industrial control systems, mobile telephones and handheld devices, ..
Doesn't cover "Commercial Features" (e.g. Flight Recorder, Mission Control) in production
Proprietary:
IBM J9
SAP JVM
HP JDK
Azul Zing
Excelsior JET
aicas JamaicaVM
...
Free:
Apache Harmony
GNU gcj
Jikes RVM
...
OpenJDK and the Java™
You are not allowed to call it Java™ (or Java™ compatible) because:

"Java" is a registered trademark
You don't get access to the Technology Compatibility Kit (TCK)

Accessing the TCK requires the signing of the
OpenJDK Community TCK License Agreement (OCTLA)

Only for OpenJDK or "substantially derived" projects under an "open source" license
OCTLA forbids disclosing TCK information to non-OCTLA licensees

OCTLA is no trademark license!
"OpenJDK" can be used according to the "OpenJDK Trademark Notice"
Copyright and patent sharing agreement with regard to your contribution

Simple dual licensing model

Both, you and Oracle, can treat your contribution as if they were the sole owners
Oracle guarantees to always publish any contribution under a suitable
Free Software Foundation (FSF) or Open Source Initiative (OSI) approved license.
The Dual Licensing Model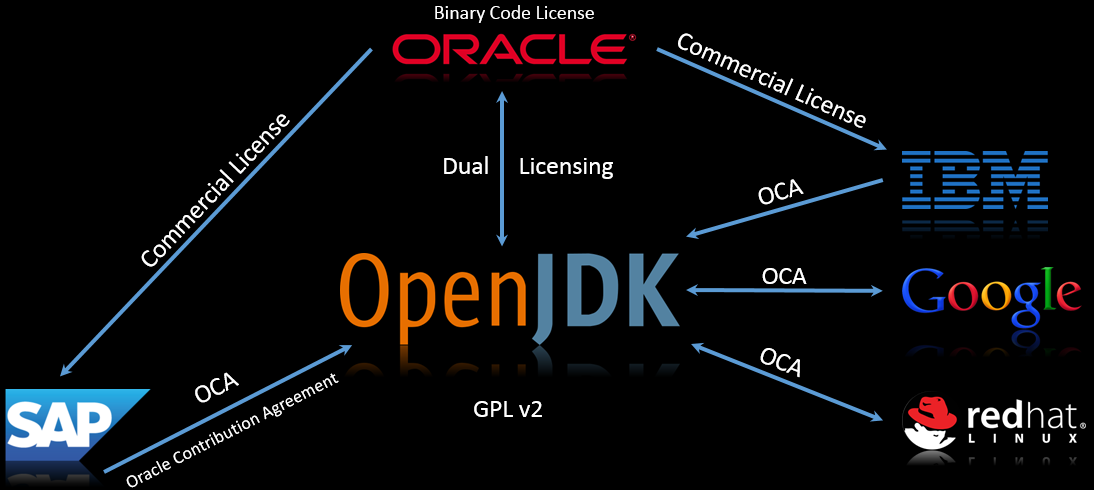 The "constitution" of the OpenJDK project
Define the Governing Board which manages
the structure and operation of the OpenJDK community

Chair (appointed by Oracle): Georges Saab
Vice-Chair (appointed by IBM): John Duimovich
OpenJDK Lead (appointed by Oracle): Mark Reinhold
At-Large Member (elected by OpenJDK Members): Doug Lea, SUNY Oswego
At-Large Member (elected by OpenJDK Members): Andrew Haley, RedHat